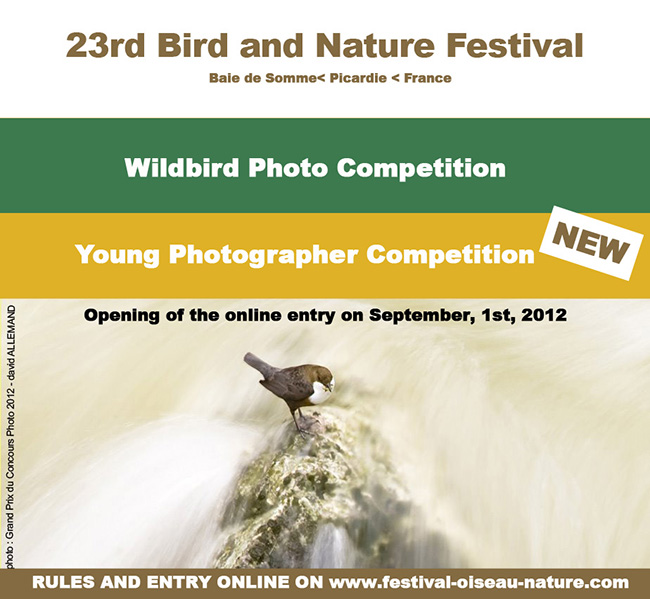 Within the framework of the 23rd Bird and Nature Festival, which will be held from April 20 to 28, 2013, an international wildbird photo competition is organized.
This competition is open to everybody, amateur and professional photographers, aged 18 or over of whatever nationality.

6 categories are defined :
A : Garden Birds : pictures showing artefacts such as seed-feeders or fat-balls won'be accepted.
B : Bird and cold : cold can be translated under various form : snow, ice, frost, fog...
C : Bird in move : the jury will appreciate dynamism and energy of the photo
D : Bird in wildscape : bird is the main subject of the photo but wildscape, biotope or environment are dominant
E : Artistic vision of bird : black and white accepted
NEW : F : Digiscoping : photo taken with a digital camera (compact or reflex) through a spotting scope
A maximum of 10 photographs can be entered by each entrant (either in the same or several categories). A photograph can only compete in one category.
The jury are looking for original and unpublished photographs. They will prefer images which have not already been awarded in any other competition.
Registration fee :
2 €/ photograph (max 10). Payment must be made online with a credit or debit card or by Paypal.
The photographs must be submitted on line

before December 1st ,2012 at midnight

. To avoid technical problems, we deeply recommend you not to wait until the last minute.PRIZES
A Grand Prix to the overall winner warded with a sum of € 1 500.
A First Prize in each category awarded with a sum of € 800.
A Public Prize awarded to the picture which has totalized the more votes from the visitors of the exhibition endowed by the Festival's partners.
An Internet Prize awarded to the picture which has totalized the more votes from the users of our website endowed by the Festival's partners.
COPYRIGHT AND REPRODUCTION
The images are original works created by participants and they should not violate the rights of any other party.
Each participant will be the owner of copyright in order to present the image in the contest.
Copyright attached to all images will remain with the copyright holder who will be credited in accordance with the rules (© photographer's name).
All winners and selected photographers allow the Festival to use their name and photograph without profit through the promoting, advertising and any communication related to the competition, exhibition or the event as a whole without receiving additional compensation. They allow our partner Chasseur d'Images to reproduce their photograph in order to achieve a portfolio that will be distributed free on all sites during the event, in magazines and paperback Nat'Images and Chasseur d'Images.
The Festival will not make other use of the work without prior consent of the author.
Rules of the photo competition (

adults

) can be downloaded here
:
http://www.stephane-bouilland.com/wp-content/uploads/2012/08/RULES-BASSE-DEF.pdf
------------------------------------------------------------------------------------------------------------------------
A second competitioon is open to young photographers between 8 and 18 years old
who loves nature and bird photography whatever his/her nationality, the unique theme is "Wildbird".
CATEGORIES
3 catégories : 8–12 years / 13-15 years / 16-18 years
Registration fee :
free
PRIZES
A first prize will be awarded in each category for a total amount of € 1500.
Rules of the photo competition (

youngs

) can be downloaded here
:
http://www.stephane-bouilland.com/wp-content/uploads/2012/08/YOUNG-PHOTOGRAPHER-COMPETITIONS-RULES.pdf